Fireplace Mantels and Surrounds Middletown, CT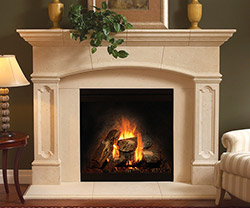 No fireplace can ever be complete without much-needed accessories to add to its aesthetic appeal. When it comes to adding that spruced up look to such timeless amenity, fireplace mantels and surrounds are the best ones that you can possibly have. And here at Fire Finesse, LLC, we are proud of our long list of clients who were truly delighted with how much better their fireplace looked when we installed these add-ons.
In fact, our past clients in Middletown, Farmington, Hartford, Manchester, and Wethersfield have nothing but praises with the decorative merits of our custom fireplace mantels and surrounds. This is not surprising given our artisans' unique ability to translate our clients' ideas into a veritable work of art. Meanwhile, our pre-built mantels and surrounds are all sourced directly from trusted partners, so you're assured of their custom-like craftsmanship and appearance.
Contact us soon and let us offer you some of our most stunning mantels and surrounds collections.
Exceptional Fireplace Mantels
Whether you need a mantel custom built to your specifications or you want a pre-made unit that looks just as stunning, we can surely satisfy your design taste and budget.
Our fireplace mantels come in either wood or stone. We have some truly stunning mantels from Mount Vernon and Balmer Stone. Mount Vernon's custom made wood mantels are noted for their exquisite craftsmanship and wide range of design that can easily satisfy even clients with the most discriminating taste. You may choose from their various collections such as Filmore, American, and Independence. The great thing about going for their products is that you can choose the specific wood species, design, and size to achieve a truly personalized look.
Meanwhile, Balmer Stone's fireplace mantels are available in Gypsum Cement and ThinCast Stone. These well-crafted stone mantels come in different sizes and styles to suit varying tastes and aesthetic needs.
Exceptional Fireplace Surrounds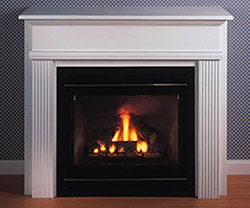 Just like mantels, fireplace surrounds also enhance the overall appeal of any fireplace. Whether you are aiming for a classic look or you prefer a modern appearance instead, we have just the perfect surrounds for you.
The beauty of our offered fireplace surrounds is their one-of-a-kind designs and craftsmanship. From our marble, granite, and slate surrounds to our wood surround units, you will surely be delighted with the range of options that we can offer. Our surrounds can be custom built to your liking – from the size and color to the shade and finish. We have a lot of past clients in Middletown and nearby Connecticut cities who have benefited from the aesthetic boost that our fireplace surrounds have to offer. You, too, can enjoy such benefits when you get your surrounds from us.
With our virtually maintenance-free stone surrounds, maintenance is easy with simple dusting and wiping of clean wet cloth. Our wood surrounds are also easy to maintain with regular dusting and wiping. We will provide you with free advice on how best to keep you surround's beauty last longer so you can enjoy its benefits without worries.
Contact Us Today
We can help you choose the right fireplace mantels and surrounds based on your desired results. We can also ensure correct installation of these fireplace add-ons. As we've done for numerous clients in Middletown, CT, we will only offer first class surrounds and mantels so you'll get the best value for your money.
Call us today at 860-529-FIRE (3473) for more details.