Gas Fireplaces, Inserts, Logs & Stoves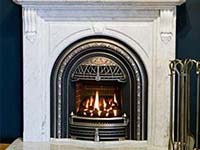 At Fire Finesse, LLC, we make homes comfortable and more appealing with the various gas fireplaces that we offer. Be it on a cold winter night or just during a chilly evening, you and your family or guests can look forward to a comfy stay with the warmth coming from your chosen fireplace. We source all our products from today's most sought-after manufacturers of quality home improvement products, hence assuring you of years of uninterrupted benefits.
You, too, can benefit from our product offerings when you call us today and order one of our top-notch gas fireplaces. We'd be delighted to offer you our personal favorites, but we will also be happy to help you choose one that fits your specific taste and comfort needs.
Exceptionally Stunning and Functional Gas Fireplaces
Over the years, we have built a solid product line that covers various brands and fireplace designs. Our gas fireplaces have been known to be of exceptional quality with their beauty and top-of-the-line features. Moreover, every fireplace that we offer has passed our strict quality control, making each one in our online catalog worthy of your hard-earned dollars.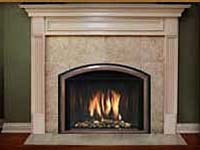 When you buy from us, you will have an easy time finding a gas fireplace that suits your design taste since we have one for every imaginable theme – modern, traditional, Victorian, or transitional contemporary. And with our skilled installers, you won't have to wait too long to start enjoying the homey and relaxing ambience that only a first-class fireplace can provide.
First-rate Gas Products that We Offer
We have partnered with leading manufacturers of gas fireplaces to give you the best products available in the market today. You may choose from the following brands and models:
We Are the Right Company for All Your Fireplace Needs
While there are other companies in Connecticut supplying similar fireplace brands as ours, we at Fire Finesse, LLC still differ from them in many aspects. First, we are accredited dealers of premium gas fireplaces. We also have experienced and trained installers who can ensure speedy installation of your chosen fireplace models.
We can also remodel existing fireplaces to improve the aesthetic appeal in your home. Best of all, we offer our gas fireplaces and installation services at competitive prices that you can easily afford without digging deep into your pockets.
Call 860-529-3473 right now.
Convenience, Comfort, Warmth, Ambiance and Security (knowing you can heat when the power is out) - sums up what a Gas Fireplace, Insert, Logs or Stove can do for you.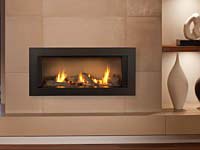 Building a new home or remodeling?
A Zero Clearance Gas Fireplace is what you're looking for. Your Gas Fireplace can be installed almost anywhere in your home. Great rooms, Bedrooms, Bathrooms just to name a few and there's no need for a brick chimney. Just choose the look, the location and a qualified expert at Fire Finesse will help get you on your way.
Tired of your drafty, inefficient, messy fireplace?
Then take action and convert your wood burning fireplace to Gas (Natural or Propane). Come to the Fire Finesse Showroom in Wethersfield, CT to choose from Gas Inserts or Gas Logs. So you can start enjoying the comfort and warmth from your fireplace.
Gas inserts are efficient, vented and beautiful. This is a great option for changing your fireplace over to gas. The insert is direct vent technology which is sealed combustion, takes air from outside the home and exhausts outside the home.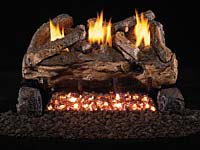 Gas Logs come as Vented or Vent free. Vented Gas Logs need to have an open flue and will have a high, beautiful, realistic flame. Vent-Free Gas Logs can be operated with the flue closed so you can enjoy the warmth.
Want a Wood Stove look with the Convenience of Gas?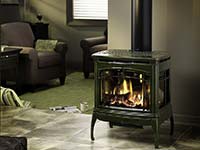 Then a Gas Stove is what you want. Available as furnace rated – direct vent units or as a vent-free stove. The furnace rated direct vent stove will be vented using co-axial pipe. It can be vented out the wall or through the roof. This co-axial pipe takes the fresh air from outside for its combustion and exhausts outside. A vent-free stove will not need a vent at all.