Outdoor Fireplaces & Fire Pits Manchester, CT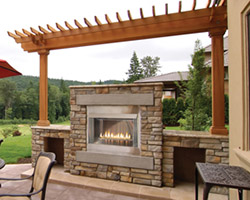 Fire Finesse, LLC offers top-quality outdoor fireplaces and fire pits for residential and commercial clients from Manchester, Hartford, Farmington, Middletown, and Wethersfield. We are also experts in the installation of these fire features. Visit our showroom today so you can choose the right fireplace or fire pit for your outdoor area. We are sure that you can find the perfect fire feature from our collection.
The Perfect Outdoor Fireplace for You
Nothing is more inviting inside a home than the warmth of a fireplace. Now you can extend this experience to your outdoors by installing one of our outdoor fireplaces.
Our partnership with some of the top brands, like Napoleon, White Mountain Hearth, Regency, and Marquis Fireplaces, has enabled us to provide high quality products to our clients. Whether you prefer natural gas, propane, or wood-fired fireplaces, we can provide the perfect solution to your outdoor heating requirements. We also have freestanding units in case you have plans to relocate the fireplace to a different area in your backyard.
To ensure total client satisfaction, we offer only high quality outdoor fireplaces that can withstand any type of weather. They are also stylish, so you can easily make these features the focal points in your outdoor area.
Enjoy the Warmth and Comfort of Our Fire Pits
Outdoor lighting may be able to provide enough illumination for your outdoor living area, but this will not provide the same degree of warmth and comfort that an outdoor fire pit does. Our clients at Manchester, CT unanimously agree that fire pits are capable of providing the perfect outdoor ambiance for family bonding activities.
We offer portable and uniquely designed fire pits so you can easily choose the right design for your outdoors. A good example would be our elegantly designed gas fire pit table with concealed propane tank. Its design allows you to use it as a fire pit during cool evenings and convert it to a regular table during the day.
Professional Installation of Outdoor Fire Features
While outdoor fireplaces and fire pits can provide the perfect evening whenever you want one, it is certainly important to consider their correct placement and installation. And at Fire Finesse, LLC, we can assure all our clients from Manchester and surrounding areas of expert installation. Safety is always our priority since outdoor fires can be hazardous not only to you and your family but also to your neighbors and even the whole community.
We will install outdoor fireplaces and fire pits in strategic locations in your outdoors. We can install one in your patio, deck, garden, or in any area that you prefer. We will also recommend adding fire screens, covers, and other accessories to improve the safety in the area.
We Can Create the Perfect Outdoor Environment for You
We have already helped countless families enjoy their outdoors, and there is no reason why you shouldn't be one of them. Our wide range of products will make your outdoors more conducive to outdoor activities and great family bonding moments. With our outdoor fireplaces and fire pits, you'll have comfortable and fun evenings any time of the year.
Call us at 860-529-FIRE (3473) so we can discuss the perfect solution for your outdoor heating requirements.