Wood Stoves - Freestanding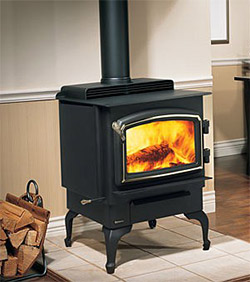 Let our top-of-the-line freestanding wood stoves lend a unique blend of charm and elegance to your Wethersfield home or office. After all, nothing beats the sight of glowing embers, the sound of crackling wood, and the scent of its aroma. Call us today or visit our showroom to see some of our wood stove collection.
Why Choose Freestanding Wood Stoves?
Aside from enhancing the look and aesthetics of your interiors, freestanding wood stoves can also provide the following benefits:
Warmth. The smallest of these stoves can provide efficient heating to a regular-sized room while the largest can give warmth three times that size. That's enough heat to protect you from the icy coldness of winter nights.


Freedom. Since these are freestanding units, we can install them anywhere you like – near a wall or even in the middle of a room, as long as there are no combustible materials around.


Easy installation. Unlike their built-in counterparts that require days, even weeks, to install, freestanding wood stoves can be set up in just a day or two.


Economy. Users attest that a wood-burning stove can generate more heat than other types of stoves. Not to mention that wood generally costs less than other fuels, especially in areas where it is abundant. This translates to a lot of savings in utility bills.


Eco-friendly. The emissions of wood-burning stoves were considered health hazards before. But, today, it is not the case anymore. Agencies that protect and sustain the environment have set standards that must be met by manufacturers. And if you get wood stoves from us, you'll get products that are EPA compliant.
The Top Brands We Carry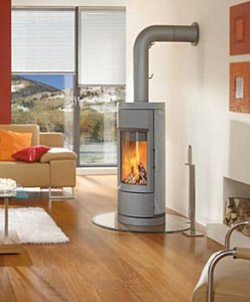 We know that our clients deserve only the highest quality freestanding wood stoves. That's why we carefully select our suppliers and the specific products that we offer to our Connecticut clients. Your safety is of utmost importance to us, so we ensure that these products are EPA certified. Our large collection of different wood stoves also allows us to cater to the specific needs and preferences of our clients.
Here are some of the best brands that we have in our list:
Hearthstone. Some of Hearthstone's top-of-the-line wood stoves cost a little bit higher compared to other brands. However, the kinds of materials used in the construction of their units are premium heat-resistant materials like soapstone and cast iron. They are also packed with great features, making them worthy investments for your home.


Pacific Energy. If you are looking for elegant wood stoves that are highly efficient, then choose Pacific Energy. They offer different designs and models that can suit your needs and preferences.


Regency Fireplace Products. The freestanding stoves from Regency are designed to last a lifetime and come in different styles and models. They meet EPA standards, so you are assured of efficient heating units.


Great Products and Efficient Installation
Our services do not stop after you pay for your wood stoves. We will send our best men to your location to install these heating units. And just in case you'll have issues with your freestanding wood stoves (which we doubt), all you need to do is dial 860-529-FIRE (3473).
Enviro Freestanding Stoves
Kodiak 1200

Boston 1200

Heats up to 2200 sq. ft.
Btu's: 67,000
Efficiency: 82.6%

Heats up to 2200 sq. ft.
Btu's: 67,000
Efficiency: 82.6%
Kodiak 1700

Boston 1700

Heats up to 3000 sq ft.
Btu's: 74,000
Efficiency: 84.7%

Heats up to 3000 sq. ft.
Btu's: 74,000
Efficiency: 84.7%
Kodiak 2100

Heats up to 3000 sq. ft
Btu's: 82,000
Efficiency: 75%
Hampton Freestanding Stoves
H300

H200

Available colors: Charcoal Gray, Enamel Timberline Brown
Options: Shelves, Short Legs, Blower
Efficiency: 83.6%
Btu's: 45,500
1.71 cu. Ft.
Emmissions: 4.1 gms/hr
Log length: up to 18"
Heats: medium room
Flue size: 6"
27" w x 29 3/4' h x 26" d

Available colors: Charcoal Gray, Enamel Timberline Brown
Options: Shelves, Short Legs, Blower, Ash Drawer
Efficiency: 83.9%
Btu's: 38,800
1.3 Cu. Ft.
Emmissions: 3.97 gms/hr
Log length: up to 16"
Heats: small room
Flue size: 6"
Dimenstions: 23 7/8" w x 27 5/8" h x 25 1/8" d
Regency Free Standing Wood Stoves
Hearthstone Wood Stoves
Heritage
Homestead
Phoenix
Mansfield
Tribute
Hearthstone Wood Stoves – Cast Iron
Pacific Energy Wood Stoves come in many different styles and finishes. Steel, Porcelain Coated Steel and cast iron. Traditional and Modern. Many of their stoves are deep enough to load the wood front to back – no worries of a log rolling out.
We service the entire state of CT including but not limited to:
Newington, CT
West Hartford, CT
Windsor, CT
Glastonbury, CT
Portland, CT
Cromwell, CT
Rocky Hill, CT
Simsbury, CT
Ellington, CT
Enfield, CT
S. Windsor, CT